Leos car rentals have proven themselves to be an excellent company to turn to when you want to rent a stylish car. They have a large selection of quality cars that are all quite nice. If you want to go on holiday, while being able to drive around in style, then this company can definitely help you to do that. They have affordable pricing options too, so you will be able to book a car that will be impressive without having to spend a lot of money.
Impressive Cars
The number of impressive cars in the fleet of this business is quite extensive. If you want to book a car that is going to turn some heads on the road, then going to this business is smart. They have plenty of different luxury vehicles and prestige vehicles for you to consider. There are so many options to choose from, and this means that a wide range of different tastes is catered to.
Whether you want to drive around in a luxury sedan, a sports car, or something that is a bit more practical, you will find plenty of cars that fit the bill. Once you have made a decision on which car you would like to book, it will be a simple task to finish the process. The customer service professionals aim to make the process quick so that you can get on the road sooner. It will not take long to have all of the details worked out.
Delivery Service is Available
If you are not able to come to pick the car up at one of the many locations, then you can enjoy the convenience of delivery service Offered by Leos rentals. This delivery service is available in any town and also in both airports with the meet and greet service, so it can be a very good option. The car will be able to be brought to you, and you can be on your way very swiftly. There are not many car hire companies that go to these lengths, so it is something that helps this business to stand out from the pack.
Company Information
Year of Establishment
1983
Directors
Andreas Argyri
Member of
PACRO
Number of Employees
1-50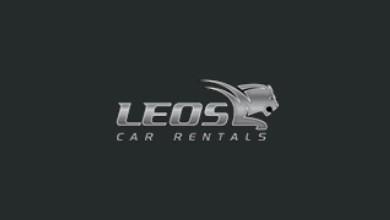 Leos Car Rentals Head Office
Address & Contacts
Street Address
Amathus Ave. , White Arches, Block L , Flat/Office: L1 , Ayios Tychonas , Limassol 4532 , Cyprus
P.O. Box: 52281
P.O. Box Postal Code: 4062
Contact
Working Hours
now
Normal Opening Hours
Mon:

08:00-17:30

Tue:

08:00-17:30

Wed:

08:00-17:30

Thu:

08:00-17:30

Fri:

08:00-17:30

Sat:

08:00-17:30

Sun:

08:00-17:30
Leos Car Rentals - Limassol Marina Branch
Address & Contacts
Street Address
Limassol Marina Block 2D, Shop 7 , Limassol , Cyprus
Contact
Working Hours
now
Normal Opening Hours
Mon:

08:00-17:30

Tue:

08:00-17:30

Wed:

08:00-17:30

Thu:

08:00-17:30

Fri:

08:00-17:30

Sat:

08:00-17:30

Sun:

08:00-17:30
Leos Car Rentals - Larnaca Airport
Address & Contacts
Street Address
Larnaca Airport , Larnaca , Cyprus
Contact
Working Hours
now
Normal Opening Hours
Mon:

08:00-17:30

Tue:

09:00-17:30

Wed:

09:00-17:30

Thu:

09:00-17:30

Fri:

09:00-17:30

Sat:

09:00-17:30

Sun:

09:00-17:30
Leos Car Rentals - Aphrodite Hills Branch
Address & Contacts
Street Address
Aphrodite Avenue, 3 , Aphrodite Hills Resort, Village Square , Flat/Office: Shop 8 , Kouklia , Paphos , Cyprus
Contact
Working Hours
now
Normal Opening Hours
Mon:

09:00-17:00

Tue:

09:00-17:00

Wed:

09:00-17:00

Thu:

09:00-17:00

Fri:

09:00-17:00

Sat:

09:00-17:00

Sun:

09:00-17:00
Leos Car Rentals - Paphos Airport
Address & Contacts
Street Address
Paphos Airport , Paphos , Cyprus
Contact
Working Hours
now
Normal Opening Hours
Mon:

08:00-15:30

Tue:

08:00-15:30

Wed:

08:00-15:30

Thu:

08:00-15:30

Fri:

08:00-15:30

Sat:

08:00-15:30

Sun:

08:00-15:30