Petsas is one of the first car hire companies and has been operating since 1962. Their many years of experience in the industry has given them plenty of perspective on how to properly run a car hire business. They keep their customers happy by offering affordable car hire prices and great customer service. By showcasing a commitment to providing great customer service, they have carved out a reputation as one of the most reliable car rental businesses on the island.
Several Locations for Your Convenience
One of the most important facets of Petsas car rental company is the fact that they have several office locations that are conveniently placed around the island and also rental locations in the airports of Larnaca and Paphos. This makes it very easy to pick up and drop off different vehicles. If you are planning a holiday trip that will have you travelling to a different part of the island, then this car hire business is going to be able to make everything as easy on you as possible.
24-Hour Service
You can contact this business at any time if you are having troubles. They will be more than happy to assist you with remedying any type of situation that could pop up. This commitment to customer service helps them to stand out as a particularly excellent company that wants to earn your return business. With office locations in all of the major cities across the free areas of Cyprus, this makes your car hire experience as convenient as it can possibly be.
High-Quality Vehicles
Of course, any good car hire business needs to have a fleet of high-quality vehicles for customers to choose from. Petsas owns several different types of cars that customers can pick from. You will find saloons, open-top cars, people carriers, and even SUV's. You can feel free to take your time to pick out the right option that will suit your needs, as they have a large fleet, and everything should be readily available.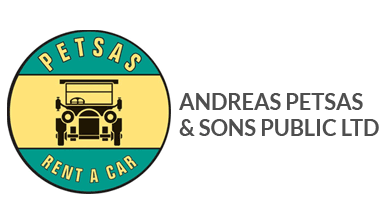 Nicosia Car Rental - Haid Office Location
Address & Contacts
Street Address
Leoforos Kostaki Pantelidi 24AB , Nicosia 1010 , Cyprus
Contact
Working Hours
now
Normal Opening Hours
Mon:

08:00-17:00

Tue:

08:00-17:00

Wed:

08:00-17:00

Thu:

08:00-17:00

Fri:

08:00-17:00

Sat:

08:00-13:00

Sun:

08:00-13:00
Limassol Car Rental Office Location
Address & Contacts
Street Address
Odos Georgiou A', , Sea Breeze Court, Shop No.1 , Germasogeia , Limassol 3509 , Cyprus
Contact
Working Hours
now
Normal Opening Hours
Mon:

08:00-17:00

Tue:

08:00-17:00

Wed:

08:00-17:00

Thu:

08:00-17:00

Fri:

08:00-17:00

Sat:

08:00-13:00

Sun:

08:00-13:00
Larnaca International Airport Car Rental
Address & Contacts
Street Address
PETSAS Desk, Arrivals Hall , Larnaka Airport , Dromolaxia , Larnaca , Cyprus
Contact
Working Hours
now
Normal Opening Hours
Mon:

Open All Day (24h)

Tue:

Open All Day (24h)

Wed:

Open All Day (24h)

Thu:

Open All Day (24h)

Fri:

Open All Day (24h)

Sat:

Open All Day (24h)

Sun:

Open All Day (24h)
Paphos Car Rental Office Location
Address & Contacts
Street Address
Leoforos Apostolou Pavlou, Kato Paphos 86 , Green Court , Paphos 8046 , Cyprus
Contact
Working Hours
now
Normal Opening Hours
Mon:

08:00-17:00

Tue:

08:00-17:00

Wed:

08:00-17:00

Thu:

08:00-17:00

Fri:

08:00-17:00

Sat:

08:00-13:00

Sun:

08:00-13:00
Paphos International Airport Car Rental
Address & Contacts
Street Address
PETSAS Desk, Arrivals Hall, , Paphos Airport , Timi , Paphos , Cyprus
Contact
Ayia Napa Car Rental Office Location
Address & Contacts
Street Address
Leoforos Nissi No.20 , Ayia Napa , Famagusta 5330 , Cyprus
Contact
Working Hours
now
Normal Opening Hours
Mon:

08:00-17:00

Tue:

08:00-17:00

Wed:

08:00-17:00

Thu:

08:00-17:00

Fri:

08:00-17:00

Sat:

08:00-13:00

Sun:

08:00-13:00